The Optoma HD142X home theater projector is one of the most affordable models available today. It has 1080p resolution and 3000 Lumens of brightness, as well as support for 3D. Packed with a great number of features but retailing for less than $1,000, this unit is practically a steal.
Picture Quality
Its superb brightness is something the Optoma brand is known for – even at a mere 7 to 10 feet projection distance, the images look great, making it one of the best for its price range. The 3D performance isn't as amazing, but still pretty good, with up to 144 Hz in 3D mode. However, if you are a gamer, the HD142X may not be your best option. It has a 60 Hz refresh rate, and the response time isn't as fantastic, but it's passable if you want to experience gaming through a huge projection screen. While this projector isn't revolutionary, it's certainly going to give you more than your money's worth as it gets the job done.
Design
The HD142X weighs only 5.2 pounds and measures 9 x 11.7 x 3.7 inches. This small and lightweight unit is great for people on a budget, and the size makes it seem as though it has been designed to fit small spaces especially as an overhead suspended projector for small places that want to experience the luxury of a home theater. The sleek black design is passable, although admittedly it looks like it's made from cheaper material than its higher-end counterparts. Lastly, if you're into using a lot of ports, this unit has only two HDMI 1.4/MHL ports, a USB power port, one audio out and a 3D-sync slot.
Interested in 3D projectors? Consider taking a look at Household Audio's list of Best 3D Projectors!
Optoma HD142X 1080p 3000 Lumens 3D DLP Home Theater Projector
3 new from $1,645.00
1 used from $1,746.00

as of September 22, 2023 11:22 pm
Features
Screen Size Range: 66-inches from 8 feet; 107-inches from 12 feet
Brightness: 3,000 ANSI Lumens. Computer compatibility: FHD, HD, WXGA, UXGA, SXGA, XGA, SVGA, VGA, Mac
Contrast Ratio: 23,000:1; Keystone Correction: Yes, Lens Shift: No
2 x HDMI (1.4a 3D support) plus MHL v1.2, Audio Out 3.5mm, 12V trigger, 3D-Sync, USB service Display Technology: Single 0.65" 1080p DC3 DMD chip DLP Technology by Texas Instruments
Operating Conditions: 5°C - 40°C, Max. Humidity 85%, Max. Altitude 3000m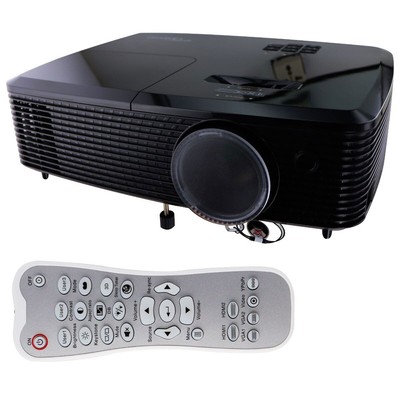 Optoma HD142X 1080p 3000 Lumens 3D DLP Home Theater Projector Review
Optoma HD142X 1080p 3000 Lumens 3D DLP Home Theater Projector Best price at: ...