The Monitor Audio Silver 10 features a three-way design, with crossovers at 550 hertz and 2.7 kilohertz. It has two bass ports on the rear for it's two drivers. They come with foam plugs to block the ports for some use cases too. It allows for biwiring or biamping if needed as well. They're a high end speaker with a high price though, but they're one of the best $2500 and under full range floorstanding speakers on the market today.
The Monitor Audio Silver 10 has all new C-Cam (ceramic-coated aluminum/magnesium) bass and mid drivers. They're incredibly strong, not flexible, and deliver clear, efficient and accurate sound. They feature a new low-distortion 4″ driver too, that operates within it's own enclosure. This allows you to hear accurate mid to high sounds without any backwave from the mid ranges.
You'll love the design of the Silver 10 too. It's sleek, sturdy and well constructed. You can choose from either rosenut, walnut, oak and black oak wood veneers. Or a striking glossy black and white. But whatever material you choose, they'll make a statement in your home theater.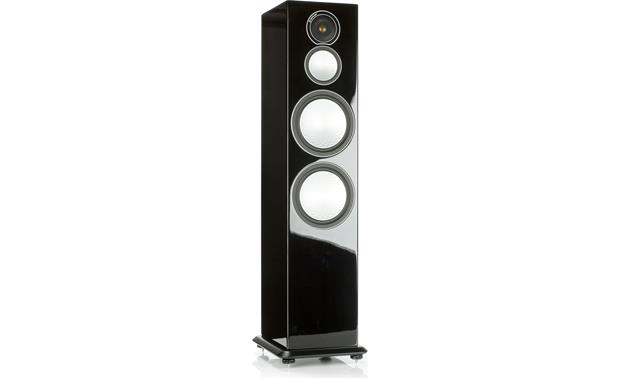 out of stock
as of June 3, 2023 12:04 am
Monitor Audio Silver 10 Denon PMA-1510AE Denon DBT-3313UD part3
Monitor Audio Silver - speaker range | Richer Sounds
Michael from Richer Sounds Bath takes a look at the Monitor Audio Silver speaker range, including the Silver 1 & Silver 2 bookshelves, Silver 6, Silver 8 & Silver ...
Monitor audio silver 10 + Avance AT-510 + yamaha BD-s667
Monitor audio silver 10 + Avance AT-510 + yamaha BD-s667.
Monitor Audio Silver 8 Speaker Review
Read the full in-depth review http://www.avforums.com/review/monitor-audio-silver-8-speaker-review.10546 The Monitor Audio Silver 8 is a great floor standing ...
Take a look at Household Audio's list of Best Floorstanding Speakers here.