The VPL-VW1100ES is Sony's Flagship 4K projector. It's truly a premium home theater projector. It'll give you the unbelievable 4K experience you're looking for, but for a hefty price tag. Projector Reviews even says, if you "Want better, buy an IMAX theater". This Sony truly raises the bar in home theater projection.
Today is a great time to get a 4K projector. The technology is new; more cable providers and manufacturers are adopting the new format every day. If you're like us, you may be sick of the ever-changing video landscape. Things are outdated within a year. But, we promise you, the VW1100ES is a projector that's ahead of its time. It'll last for years and will continue to be the best 4k projector for some time.
Sony is hands down the most recognized company for 4K projectors in the world. They provide projectors to home theaters and movie theaters alike. The VPL-VW1100ES has many of Sony's latest technologies and innovative features. It doesn't fall short of their reputation for quality video projection.
Picture Quality
The VW1100ES is a beast. It delivers 4096 x 2160 resolution that'll keep you glued to the screen. Unlike many competitors, it uses 3 4K SXRD panels without any sort of artificial pixel enhancement. It's true 4K resolution. You can use this projector with any quality of video content and expect the highest quality picture. It's color range is phenomenal too. One of the signature features of the unit is it's Triluminos Display Technology. This gives it a broad color range and smoother tones and textures. Contrast is also excellent with its Iris3 technology. Another technology, known as Motionflow, keeps the picture realistic and clear. It displays 2x the number of images and transitions per second than full HD video. Action films, sports, and other fast paced content really showcases this feature well.
Upscaling and sharpness enhancement is powered by a feature called Reality Creation. It's Sony's algorithm that processes images in such a way that they're tuned for sharpness and detail. And with a lumens rating of 2000, the high-performance lamp is bright enough for even the most ambient lighted rooms. It's really like bringing a movie theater to your home. Make sure you pair it with a high-quality projector screen though to bring out it's true potential.
Design
The Sony VPL-VW110ES is a bit bulky. It measures 20.47W x 7.87H x 25.20D inches. It's also heavy, 44 pounds! But if it's weight and size is any indication of its performance, great is the only thing it could be.
All of the projectors are positioned at the bottom left hand side. They're under a lid that makes them a bit hard to access, but they're hidden pretty well. It has a number of inputs:
2 v1.4 HDMI ports
2 LAN port (one for services use and one for an external 3d transmitter)
IR IN – Minijack
It also has a very nice remote that has all of the key adjustments and shortcuts on it. This includes lens adjustments like focus, zoom and shift. It has quick adjustments for sharpness, brightness and contrast. And it even has 9 picture presets that are available with a click of a button.
All in all, we give the Sony VPL-VW1100ES two thumbs up. It's one of the few true 4K projectors on the market today. We've looked at a number of high end projectors, including the JVC DLA-X700R and the Sony VPL-VW350ES and we see a noticeable difference. The VW1100ES will exceed your expectations for any video content that you throw at it, no question.
Specs:
Dimensions: 20.47W x 7.87H x 25.20D inches
Weight: 44.0 lbs
Projection Range: 60" to 200"
Brightness: 2000 Lumens
3D: Yes
3D Glasses: Unknown
Compatible Video: 480/60i, 576/50i, 480/60p, 576/50p,720/60p, 720/50p, 1080/60i, 1080/50i
Lamp Life: N/A
Resolution: HD 4K (4096 x 2160)
Connectivity Ports: Component (Y/Pb/Pr) Inputs: 2 side (RCA x 3), 15 Pin HD, D-sub 15-pin, RJ45, RJ45 Remote Network Connection, IR Input, RS-232, and 2 12V Trigger outputs.
Contrast Ratio: 1,000,000:1 Dynamic Contrast
Power Zoom & Focus: Yes
Zoom lens ratio: 2.10:1
Household Audio has assembled a list of the best 4K projectors, check them out!
Sony VPL-VW1100ES Native 4K 3D SXRD Home Theater Projector
3 new from $14,990.00
1 used from $12,999.00

as of December 3, 2023 12:18 am
Features
Screen Size Range: 42-88 inches from 8 feet; 62-130 inches from 12 feet, 81-172 inches from 16 feet
Resolution: Full 4K (4096 x 2160)
White Brightness: 2000 Lumens; Color Brightness: 2000 Lumens; Calibrated Brightness (cinema 1 mode): 1315 Lumens
Contrast Ratio: 1,000,000:1; Lens Shift: Vertical +/- 80%; Horizontal +/- 31%
Warranty: 3 Year Limited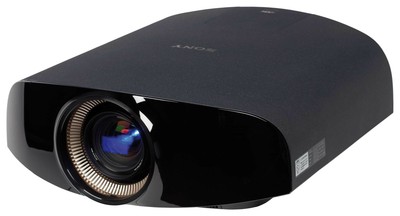 $16,499.99
$24,999.00
out of stock